Roster of MIFC Select Coaches for 2019-2020
Girls
| | | |
| --- | --- | --- |
| GU10 2010 | Maroon | Francois Delafoose |
| GU11 2009 | Maroon | Elliot Fauske |
| GU11 2009 | White - Dinamitas | Cristian Pintone |
| GU12 2008 | Maroon | Steven Thurlby |
| GU13 2007 | Maroon - Fuego | Cristian Pintone |
| GU14 2006 | Maroon | OT Yanez & Colin Rigby |
| GU15 2005 | Maroon - Crush | Tom Hill |
| GU16 2004 | Maroon | Elliot Fauske |
Boys
| | | |
| --- | --- | --- |
| BU10 2010 | Maroon | OT Yanez |
| BU10 2010 | White | Scott Inthoulay |
| BU11 2009 | Maroon | Aaron Byers |
| BU11 2009 | White | Francois Delafosse |
| BU12 2008 | Maroon | Willy Cardenas |
| BU13 2007 | Maroon | Willy Cardenas |
| BU14 2006 | Maroon | OT Yanez |
| BU15 2005 | Maroon | Danny Rogers |
| BU16/17 2003-2004 | Maroon | David Addison |
| BU18/19 2001-2002 | Maroon - Shadow | Elliot Fauske |
New Coach for '19/20
---
MIFC Donates Soccer Gear to Aspiring Students and Athletes in Africa
Ethan and Chloe Yang with students in Ghana
Kids in rural Ghana are now sporting MIFC jerseys and gear thanks to our local Mercer Island soccer players Ethan and Chloe Yang and family.
14-year-old Ethan currently plays for Eastside FC and 12-year-old Chloe is playing for PAC NW. Both Ethan and Chloe started their soccer careers with MIFC and coaches Colin Rigby and Aaron Byers.
The Yangs recently traveled to Ghana to do volunteer work with the Adanu NGO. Adanu builds schools in rural Ghana with the goal of empowering kids through education.
Recognizing the popularity of soccer throughout Africa, the Yangs took donated MIFC jerseys, soccer balls and gear along on their trip to hand out to students attending the school the Yangs helped build. When the items were presented, the Yangs say the kids had pure joy on their faces!
Ethan Yang presenting a scarf of appreciation from Adanu NGO to MIFC President Greg Snyder
MIFC also teams up with Soccer2Unite, a non-profit organization that leverages the power of soccer to empower underprivileged children from around the world. Since 2013, Soccer2Unite has distributed more than 2,000 pounds of donated soccer gear, including jerseys and equipment from MIFC, to children living in Uganda.
Athletes in Uganda wearing MIFC jerseys distributed by Soccer2Unite
---
MIFC Rocks the WA Youth Soccer Founders Cup!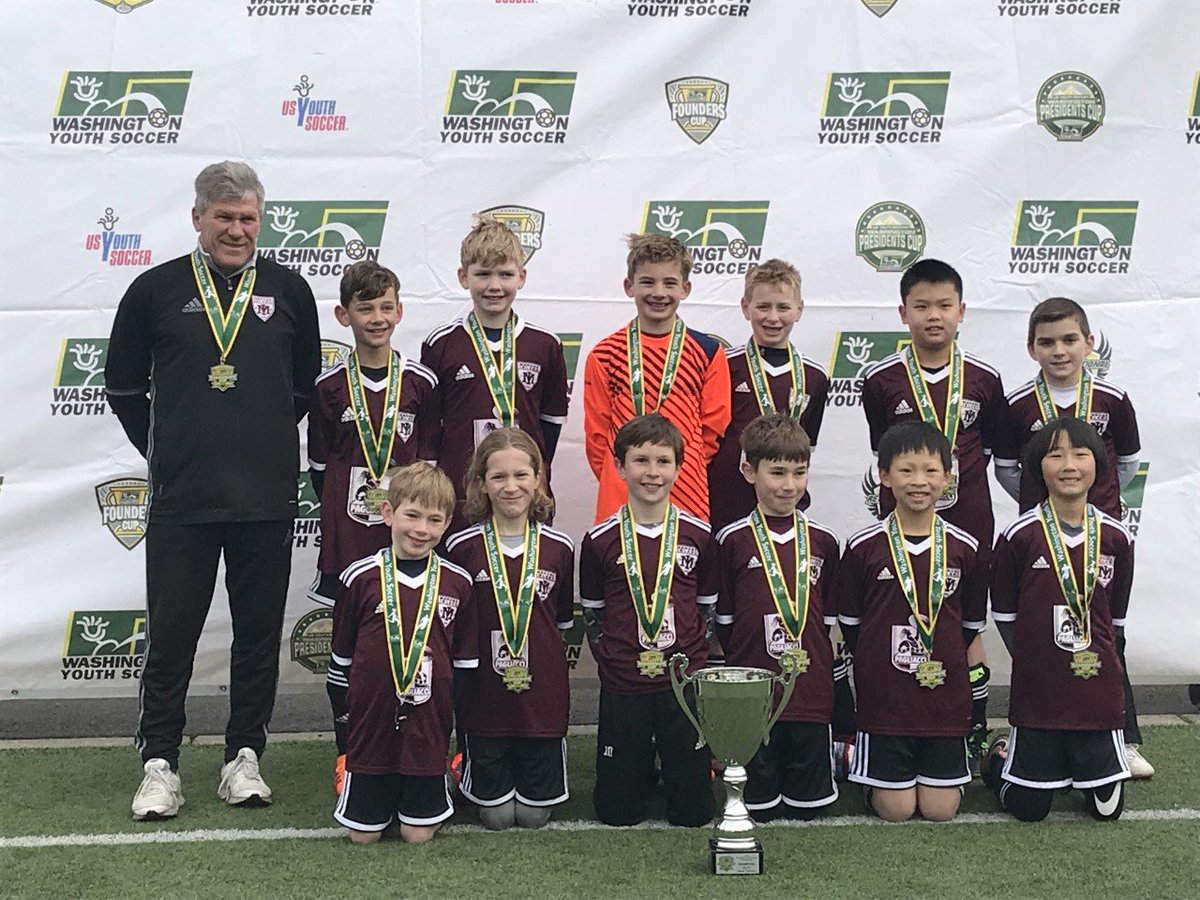 Congratulations to MIFC BU09 White for winning the Founders Cup Silver Division with a final score of 2-0!
B09 White, coached by Francois Delafosse captured the State Founders Cup Silver Title on February 3. Throughout the tournament, the boys dominated play with five shutouts in six matches. They ended the tournament with 33 goals for; 3 against. B09 White overpowered Whatcom FC in the semi-finals 5-0, and Seattle United Blue in the finals 2-0. Congratulations to Coach Delafosse and players Ethan Beresky, Becket Dornay, Thomas Gallagher, Mattias Hofstetter, Cole Howard, Boston Izzo, Finn Killian, Thomas LeClercq, Jonathan Mak, Ethan Nguyen, Theodore Roodman and Benjamin Son.
In the Gold Division, B09 Maroon advanced to the Finals against Crossfire Select09 Black but fell 2-0 in a match Coach Aaron Byers described as "one of the most exciting games ever for a bunch of 9 year olds." Kudos to Coach Byers and players Eli Bell, Haiden Byers, Zachary Hyman, Adam Kiviat, Karson Lee, Jacob Lubitz, Sam McKim, Brady Mock, Braeden Vitelli, Tilman Wyss and Preston Yee. Keep up the great work Maroon!
*Mercer Island FC had 9 teams competing - BU10 Maroon (Coach Aaron Byers), BU10 White (Coach Francois Delafosse), GU10 Dinamitas (Coach Cristian Pintone), BU11 Thunder (Colin Rigby), BU12 United (Willy Cardenas), BU13 Maroon (OT Yanez), GU14 (Tom Hill), BU17 Rangers (Andrei Zahajko) and BU19 Shadow( Brice Boum).
*5 teams made it out of their groups to quarterfinals - BU10 Maroon, BU10 White, BU12 United, BU13 Maroon and BU19 Shadow.
---
MIFC G08/09 Flames win WA Youth Soccer Recreational Cup!
Congratulations to MIFC G08/09 Flames in their amazing come from behind state Recreational Cup championship victory! Special congrats to Coach Adam for teaching the girls possession soccer and for his dedication to coaches education.
---
MIFC GU17 Maroon win WYS Presidents Cup!
MIFC Maroon Championship is team's 2nd State Title in 4 years
Back row: Steve Gest (Assistant Coach), Ellie Sulla, Elaina Martin, Ella Veljovich, Hannah Wainwright, Abby Berman, Lexi Shurygailo, Maia Malakoff, Sarah Gest, Tom Hill (Head Coach)
Front row: Keathley Pinney Brown, Catherine Yoshida, Robin Henry, Annelise Rorem (Keeper), Ella Hensey, Naomi Lewis, Claire Molina, Stella Goffman
Not pictured: Hannah Derakshani, Mari Hanan
On Sunday, May 13th, the MIFC Maroon G01, coached by Tom Hill and assisted by Steve Gest, faced off against a tough Washington Premier FC team in the finals of the Washington Youth Soccer Presidents Cup. WPFC had won 5 straight games in the tournament with a combined goal total of 28 for and only 1 against.
After a tight battle, the first half ended tied 1-1. Just before the second half started one of Maroon's team leaders spoke up: "The team that comes out strong in the first 15 minutes and wants it more will win this game. Let's go out there and beat this team!" The team responded and scored in the first two minutes on their way to a 4-2 win.

Coach Hill, who had missed the semi-final match to attend his daughter's college graduation in Texas and caught an early morning flight from Texas to be there for the final, summed up the team's effort: "It was a solid 4-2 win against a quality team to take the well-deserved top honors. Maroon continues to be a cohesive team. Ten of Maroon's 18 players have been on the team since U12 and thirteen were on the team at U14. They have grown as both individual players and as a team. They know their teammate's tendencies and rely on each other. I'm so proud of how these girls have developed over the years, both as individual players and as a team."
Coach Hill gets a hair make over after challenging the girls that if they won the Presidents Cup, he would let them dye his hair maroon.
To read the complete write up on the Maroon's tournament run from our document library, click here.